The company has the most modern fleet comprising of Tractor-Trailer combination units all the Vehicles are meant for transportation of 40 containers, all the vehicles are owned by the company.
The average age of vehicles in our fleet is less than 4 years due to continuous upgrading of our fleet, the fleet strength at present is of 211 trailors deployed across the western ports of India namely Mumbai/JNPort/Mundra/Pipavav and the ICDs at Vadodara and Dadri.
We firmly believe in offering tailor-made solutions and repositioning our fleets to the requirement of our customers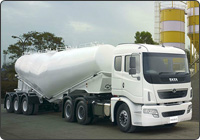 Special Fleet
The latest addition to our fleet is 17 BSIII compliant vehicles with a high G.V.W of 40200 Kgs. and 49000 Kgs makes us the largest fleet owners in the container segment with a fleet size of +200 vehicles.
At present 24 of our trailers are fitted with generator sets which maintain a continuous electric supply of 3 phase 25kva current for running the refrigeration unit.
Our Drivers
The drivers are specially trained and have adequate knowledge to the risks involved in movement of perishable Cargo and other precious Export Consignments,
Our Achievements
In the last two decades we have delivered safely 100% of the cargo carried by us which include Frozen Meat, Acids, Dyes, Color Picture Tubes, Films, Plastics, Psyllium Husk, Chocolates, Plant machinery & Capital Goods, Aircraft Parts, Yarn etc.
Presently we are running about 16000 Containers annually providing safe & reliable Transportation of Goods to our Various Clients the Main Routes of Transportation now being Maharashtra- Daman-Gujarat-Silvassa-Karnataka & Andhra Pradesh and Uttar Pradesh.
Current Scenario
All our vehicles are adequately covered for Comprehensive Insurance as is mandatory under the Motor Vehicle Act.
We at present offer our services for transportation of 40 Feet Container cargo wt above 23 M.T from JNPort/Mumbai Port-Pipavav Port/ Mundra Port and ICD Dadri and due to presence at strategic locations we offer a one stop solution that ensures smooth transportation of Containers for all your requirements.
Types of Vehicles:-
AMW-4019
ASHOK LEYLAND-4023
ASHOK LEYLAND-4019
TATA-LPS 4018
SECTORS
JNPORT- SURAT-VADODARA-KOSAMBA-WAGHODIA-DAHEJ
JNPORT-PUNE-NASHIK-SINNAR-DHULE-JALGAON.
JNPORT-INDORE-PITAHMPUR-NAGDA.
JNPORT-PUNE-HYDERABAD
PIPAVAV-JAMNAGAR-RAJKOT-AHMEDABAD-VADODARA
MUNDRA- JAMNAGAR-RAJKOT-AHMEDABAD-VADODARA
VADODARA-ANKLESHWAR-SURAT-HALOL-AHMEDABAD
ICD DADRI/ LONI/ICD GARHI- ALL DESTINATIONS OF NORTH INDIA